China Quality Conference Successfully Held CQC and Pudong New Area Government Jointly Serve the "Belt and Road" Construction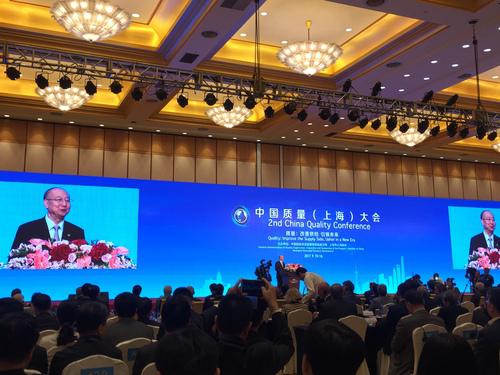 The second China Quality Conference was successfully held in Shanghai from Sep. 15th to 16th. State Councilor Wang Yong attended the conference, and presented the letter of congratulation from President Xi Jinping and delivered the opening speech.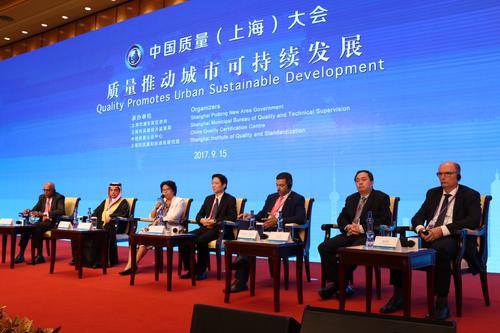 This conference is cosponsored by Administration of Quality Supervision,Inspection and Quarantine (AQSIQ) and Shanghai municipal government with the theme of "Quality: Improve the Supply Side, Usher in a New Era". The goal of this conference is to promote international quality cooperation and drive socio-economic development into the era of quality. Officers of related national quality authorities, heads of related international quality organizations, leading quality experts and entrepreneurs of multinational enterprises attended the conference.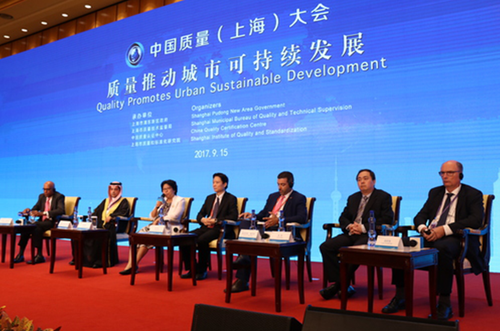 As one of the organizers, CQC and Pudong New Area government held the "Quality Promote Urban Sustainable Development"parallel meeting. Ms. Lu Mei, VP of China Certification and Inspection Group and president of CQC participated in the panel as special guest. She gave a deeper explanation to the proposal of Chinese testing and certification bodies serving the "Belt and Road", and hoped that inspection, testing and certification can be utilized to guide enterprises towards higher-quality products and services and stronger brand competitiveness, so as to improve the quality of the supply side. President Lu Mei also hoped that mutual recognition of conformity assessment among countries along the "Belt and Road" can be promoted through technical regulations, standard, inspection, testing and certification. Thus international trade will be facilitated with guaranteed safety and quality to push Chinese products to go global.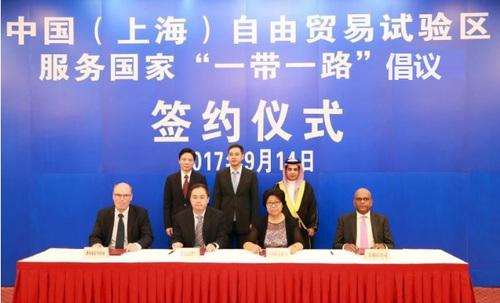 On Sep. 14th, the day before the opening of the conference, CQC also attended the signing ceremony of the Shanghai Pilot Free Trade Zone of China Serving the "Belt and Road" Initiative held at the Government Office Hub of Pudong New Area. President Lu Mei delivered a speech and signed the Quality Cooperation Agreement among Testing and Certification Institutions in the Shanghai Pilot Free Trade Zone of China that Serve the Bridgehead Construction of the "Belt and Road"on behalf of CQC with UL Laboratory of the United States, TÜV Rheinland of Germany and Shanghai Institute of Measurement and Testing Technology. The signing ceremony was also attended by Hang Yingwei, deputy secretary of Pudong New Area District Committee, Lu Fangzhou, member of District Standing Committee, Wu Weiping, Director General of Market Supervision and Administration, Mohammed Ahmed Asiri, commercial counselor of Kingdom of Saudi Arabia in China, Shi Baoxiang, director of Center of Standards and Technical Regulation of AQSIQ, Fu Wenbiao, director of Development and Research Center.
Government of Pudong New Area built a communication platform for testing and certification bodies and enterprises. CQC, together with government of Pudong New Area and other partners will be devoted to providing high-quality inspection, testing and certification services, helping local government cultivating regional quality brand, and playing a better role in the construction of the "Belt and Road".